WWV Part II (page 2)
The Two Component Models
The KR808D-1 (as well as the similar E9 and GreenCig models) represents a newer concept in electronic cigarettes: the battery plus a disposable integrated cartridge and atomizer (the "cartomizer"). The cartomizer more effectively stores and delivers e-liquid to the atomizer – in a smaller package – than any other type of e-cig.
The KR808D-1 is the simplest and most convenient type of e-cigarette. No messing with e-liquid required (although you can if you want to). You simply charge your battery, screw on a pre-filled cartomizer and vape.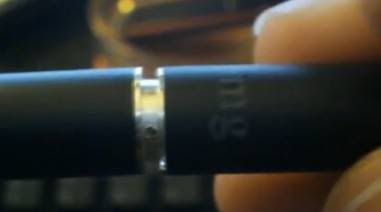 And that smaller cartridge/atomizer package enables the inclusion of a much larger and more powerful battery – the same size as a long penstyle – but at a total length e-cig equal to the popular mini class. And the KR808D-1 battery is true 3.7V – higher even than the penstyle and eGO.
Because of its simplicity, convenience, and liquid delivery effectiveness, cartomizers are now also available for other e-cig models, such as the popular 510 and eGO.
Michael Mullins of Digital Ciggz has just produced an excellent short video, which encapsulates what we've covered thus far in Part II. [Some of the phrasing may sound familiar. According to the credits at the end, my alter ego played a small role in what is said. 😀 ]