WWV Part IV (page 4)
Specific Recommendations and Supplier Links Based on Your Priorities
– The Little Guys
[NOTE: In addition to the suppliers shown, many of these models are sold by the low price / high shipping cost China suppliers: Heaven Gifts, HealthCabin, EastMall, and BestEcig (although the latter's products are compatible versions manufactured by BestEcig).]
1. The Super-Minis
If you want to start with an e-cig as close as possible to the size and shape of an analog and has adequate vapor, flavor and throat hit for something so small (and are willing to cope with frequent battery recharging), consider one of the Super-Minis. [BTW, "super" doesn't mean "wonderful" (not that they aren't), but "very much so." The "minis" are smaller than a penstyle (sometimes called the classic, and, therefore, the benchmark). The super-minis are much smaller than the penstyle]:
The newest (and longest, barely) of the super-minis is the 104 mm M601 (auto battery) and M602 (manual battery). It is carried by Electronic-Cigz ($60) in Canada. I know little about this model myself, but, according to the video reviewers, it appears to be one of the best of the super-minis and comparable in performance to the minis.
Nikko Daniels presents the M601/602 in one of his trademark high-energy videos:
A PCC is available for the M601 for $30 from Electronic-Cigz (but it will not accommodate the manual switch button of the M602, despite the one shown in this photo). It holds up to two batteries, 4 carts and/or atomizers and charges one of the batteries.
For more information on the M601/602, check out igetcha69's and MoobyGhost's video reviews, crippledbazooka's M601/602 ECF thread, and the Electronic-Cigz forum on ECF.
If you have already purchased a Smoking Everywhere Gold or an Njoy Npro, you own a 103 mm RN4081, whether you know it or not. If you like it (as some forum members do), but would rather not pay exorbitant prices for replacement parts, check out Totally Wicked's "Super" ($40 for a two-battery, one-atty kit), DietSMOKES ($47 for one-atty kit; very inexpensive attys sold separately), or AquaVapor ($50 for a two-atty kit); or Liberty Flights [10% discount code: VGLF10] and Heaven Gifts for atomizers and cartridges only. The RN4081 is the only super-mini with an unexposed atty. You saw a cross-section of the RN4081 atomizer in Part II; here is the whole e-cig:

For more information, explore ECF's RN 4081 *Super Mini* model-specific sub-forum. smokingtwopointoh demonstrates the SmokeStik Royale-branded RN4081.
There now is also a cartomizer version of the RN4081, called the Double Deuce ($44) by Good Prophets, which also sells the standard RN4081 atomizer.
The same-sized 103 mm DSE103 is not that common a model. Its atomizer and battery are fully compatible with the above RN4081, but the 103's atty is exposed (good for dipping). The cartridges are not compatible, however. U.S. suppliers include Domestic Vapor ($20), The House of Vapor ($43) and eLiquidPlanet (which calls it the Solar Flare, $70, 10% discount code: VGELP10); and, in China, Heaven Gifts. BestEcig's BE103 is virtually identical ($28, China).
There is no ECF forum for the DSE103, but you can search for a few posts about it. Here's BigJimW's review:
The 98 mm Joye306 ($44 from Rocky Mountain Vapor and $50 from TrueSmoker, each with two atomizers) and M402 ($43 from LiteCigUSA) are both well-regarded models. [See also our news story about "The Hottest 'New' Atty".] The Joye306 is compatible with the smaller Joye306a and larger Joye510 and eGO*; the M402 is compatible with the M403 and M401.
* Clarification: The 306/306a atomizer works with the 510 and eGO batteries and the 306 battery works with 510 accessories (the 306a described next is too small for the 510's PCC), but the 510 model has its own, different atomizer.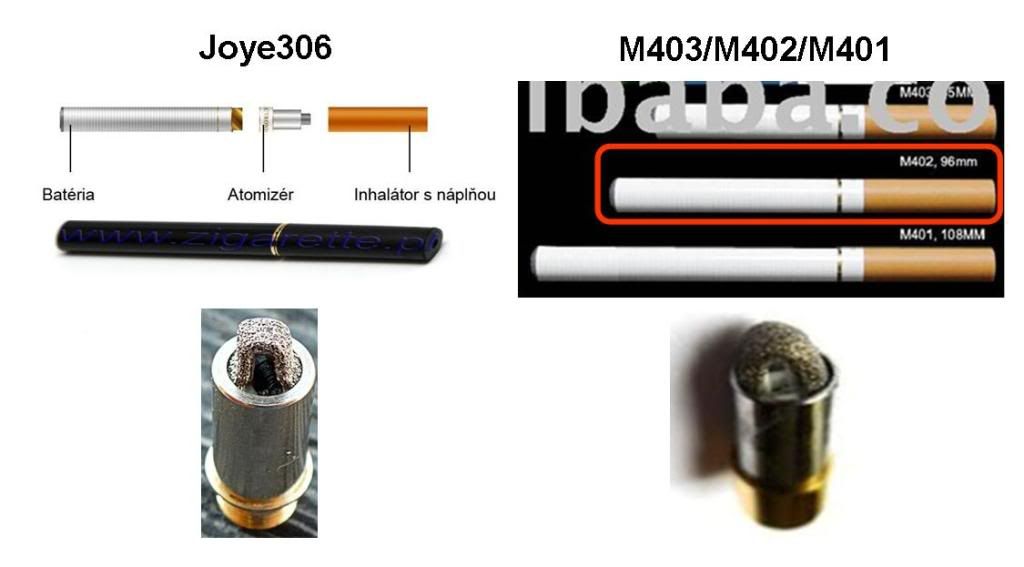 Shown above are the Joye306 and the M400 series (with the M402 highlighted) with their respective exposed wick atomizers. Notice that they are virtually identical in appearance (but not compatible with each other); although alibaba.com (whose imprint is blocking the top M403 model) claims that the M402 is 96 mm. 96 … 98: big deal!
You take the 6 road and I'll take the 8 road and I'll get to throat hit before ye…
[Gosh! I did it again. 😳 Sorry … especially to Scottish vapers.]
And Intellicig sells a short "Mighty ATOM" battery ($13) for its EVO-branded M401, resulting in an e-cig 95 mm in length. [Another ballad, honoring '5'? Nah!]
I couldn't find a Joye306/306a/510 photo comparable to the M400 series photo, but I did find that above left component-breakdown picture with annotations (in Czechoslovakian, I believe). Know, however, that the Joye306/306a/510 size comparisons are similar to their Smoore* counterparts.
* NOTE: Smoore is the manufacturer of the M-series e-cigs (including the M201 penstyle), not this delicious campfire treat: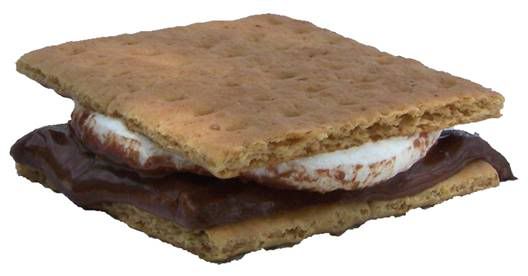 If you want an e-cig close in size to a 100s analog, get either of these. Of the two, I suggest the 306, because of its compatibility with those immensely popular models … and see the "Breaking News" about the 306 atomizer.
Explore the respective ECF Joye 306 and M-401/402 "Mini" & M403 Super Mini model-specific sub-forums.
The 89 mm Joye306a (CAD$60 from Canadian Happy Vaper [10% discount code: VGHV10] or US$40 for 306/306a combo kit from SmokeSafe) and M403 (LiteCigUSA). The 306 and 306a are essentially the same devices, just with different length batteries. The atomizers and cartridges are identical. The same is true of the 402 and 403. [However those two series are not cross compatible, i.e., you can't mix JOYE3xx with M4xx.]
If you want an e-cig close in size to a king-sized analog, get either of these (but puffs per battery charge are less than their 98 mm brothers). [You might want to purchase a 98 mm starting kit and an extra battery for the 89 mm size.] Both are available in black or white. You saw a photo of the M403 at the top of the above group photo. Shown below is the Joye306a.
For several months, blu held a rather special (albeit strange) place in my heart. It was the first e-cig I was really attracted to … but upon researching it (for example on VF and ECF) I came to realize that it was not right for me (it might be for you, however). What a tension between the inner child and the sensible adult! I still have wistful feelings about the blu, kind of like those for that pretty cheerleader I was too timid to ask out in high school. [I wonder what ever became of her. Probably shrewish and fat, on her third husband, and her kids never call her. Ain't sour grapes grand? 😉 ]
Read user comments in ECF's Blu Electronic Cigarettes Model Specific Discussion sub-forum and decide for yourself about these L88s.
The 86 mm M702 ($34 for a one-battery/atty kit from China-based AbsolutelyEcigs; and $60 for a two-battery/atty "Elite"-branded kit from Revolver) is a newer Smoore model. The starter kits include a PCC that holds an assembled e-cig (in addition to the battery being charged), plus four extra cartridges. Batteries and cartridges are available in white and/or black (although Revolver also offers a chrome battery and blue or tan cartridges).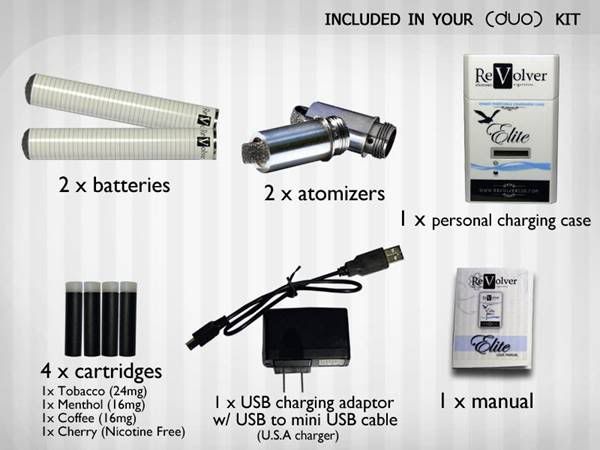 As you will see from Nicco Daniels' high-energy video review (and accompanying ECF thread) of the e-cig and its PCC, he is very enthusiastic about this product.
You'll find counterpoints to his positive review on ECF here … and here for MoobyGhost's video review demonstrating less impressive results. [I ordered one for an acquaintance and tried it myself. He seemed to enjoy it, but I've become spoiled by the larger models and haven't used mine in months.]
The 84 mm DSE084 aka 8084 – $27 for a one battery kit from GoodProphets or £28 for a two-battery kit from Lalla Boutique (and for parts only, Heaven Gifts) – is the very smallest e-cig and (based on a couple ECF reviews I've read, such as this one by Nikko Daniels, with his characteristic crystal clear photos) does quite well (considering its size). Expect to recharge batteries very frequently: puff, recharge, puff, recharge – well maybe not quite that frequently. 😉 Scott Bonner (igetcha69) reviews it here:
As you can see in the pair of photos on the left, the wick is exposed. On the right is the 084 lined up next to the blu.

They really should create a special category for this one. If 104 mm devices are super-minis, this 84 mm one is a super-super-mini. [This doesn't mean that the 084 is wonderful-wonderful, just that it is very-very small.]