WWV Part IV (page 2)
The Best E-Cig for a First-Time Vaper
The "Disposables"
If, at this point, you are only mildly curious about this e-cig stuff and would like to sample it at the lowest possible cost, consider one of the inexpensive disposable 510 clones. They're called "disposable" and their expected life span is less than a standard 510, but the battery can be recharged several times and the atomizer probably will last awhile. [Include some e-liquid in your order to take advantage of the battery's rechargeability.] I view them more as introductory models, e.g., they also are an excellent choice to give to a smoker friend whom you are trying to convert to vaping.
Otherwise, jump in with both feet and order one of the following outstanding, full-fledged models.
The Quick Approaches
I'm about to suggest that you conduct some further research and investigation and then ponder your choice, using parameters I'll be providing. If all that sounds just a bit too analytical and time-consuming (you are more the "executive" type), go buy one of the following three models. In this video, Mistress Nomad suggests the Kr8 or Joye 510.
My two suggestions are similar, except I recommend an upgrade of one of those models.
The Quick and Dirty Approach
If you want the simplest, most convenient model, go buy a Kr8 (KR808D-1) for around $40. No messing with e-liquid required (although you can, if you want to). You simply charge your battery, screw on a pre-filled cartomizer (in any of scores of flavors and several nicotine levels) and vape.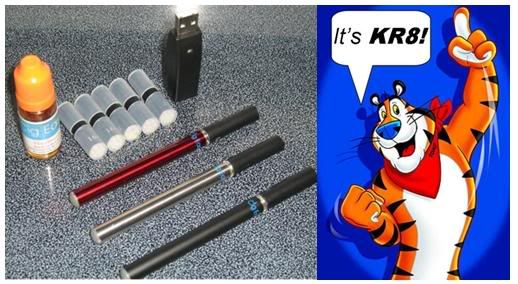 It was my first e-cig, so therefore it must be the best one for you. 😉 Seriously, it's not perfect for everyone, but it is a sensible choice for a newbie. It has strong throat hit, flavor, 280 mAh battery life, and 3.7V; and decent vapor. And the batteries (I recommend automatic) and cartomizers each can be used with other models. For example, one of my favorite e-cig setups is a penstyle atomizer with adapter on a Kr8 battery. Many people use Kr8 cartos on mods.
Add in a PCC (for carrying two extra cartomizers and for charging your backup battery on the go), some extra prefilled cartos and/or e-liquid, and you're off and running.
If you spend more time at a computer than away from it, you might choose to purchase a USB Passthrough (shown above) instead of the PCC. [NOTE: Both of these are available from most of the listed suppliers.]
The Kr8 model is sold by many suppliers and often under different brand names. The following are the U.S. suppliers (and names they use) that I have dealt with:
The Quick and Cleaner Approach
If you don't want to do a lot of research, but still would like to have a choice: in addition, consider a Fat Batt based on the Joye 510 atomizer (i.e., a higher capacity battery version of the other model Mistress Nomad recommends). It is the most popular among forum members today, and one of the most respected). Like the Kr8, most of the fat batts are not that much longer than a 100s analog, although they are wider.
The 510 atty generates excellent vapor and scores well on all the evaluation factors. The fat batts more than cancel out the one weakness of the basic 510 model (puffs per battery charge) with their 650-1300 mAh manual switch batteries. And, because of that extended battery life, you won't need a PCC or PT, so the total price is no more than the Kr8.
As stated in Part II, there are several fat batt models. The first and most popular (but most expensive) is the 650 mAh 3.4V eGO, now available from almost any supplier. Retail price is $74, but look for sales at prices around $60 that sometimes are available from suppliers like Rocky Mountain Vapor, LiteCigUSA, Cignot, Domestic Vapor, NHaler, or Heaven Gifts (China).
However, I recommend either of two other models (which are less expensive and greater capacity): EastMall's 750 mAh 3.4V Riva ($50 from Clouds of Vapor and Vapor Junction, $55 from AltSmoke, $67 from NHaler) – the same size and shape as the eGO and fully compatible with all of its enhancements – or the somewhat larger and less streamlined 1300 mAh ~3.6V Hello 016 ($35 from Digital Ciggz; $10 to $20 more with integrated cone/atomizers from LiteCigUSA, AZ Smoke Free, NHaler and MadVapes). [NOTE: The Hello 016 comes with only one battery, but it will last all day and evening and you can charge it while you sleep.]
The odds are very good that you'll be happy with either a Kr8 or a 510-based fat batt. And if you actually are an executive, you'll easily afford purchasing a different model later. 😀
[FYI: Any personal bias I might have does not influence either of these recommendations. I have used and enjoyed the Kr8 and fat batt, but my primary preferences lie elsewhere. I do love that Kr8 battery, however.]
DaBoomVape's Favorite
Those are the models that may be the soundest choices for a new vaper. My favorite – and what I think is a great choice for any vaper – is my own combination of what I regard to be the best atomizer and best battery: a moderately low resistance 801 penstyle atomizer (and drip tip) on a Kr8 battery (using a 901-to-801 adapter). [I call it the "DaBoomMod" (but, since I've done no engineering on it, it's not really a mod). 😀 ] It looks somewhat like this, but is a bit shorter:
There is no one supplier that sells all four parts. Good Prophets sells $3.50 "808/901 batt-to-801 atom" adapters, $3.50 Delrin 801/302 Drip Tips, and, as noted above, is one of the suppliers of Kr8 batteries, chargers, and PCCs. IkenVape sells special (shorter length) 2.5 ohm 801 atomizers for $8. For me, the resultant 6-7 watts is perfect. The total length is somewhat shorter than the standard 155 mm penstyle. [NOTE: IkenVape also sells a (very short) 2.0 ohm 801 atty for the same price, but which requires a 450+ mAh battery such as a Fat Batt.]
Second only to that Rube Goldberg device is the prepackaged 155 mm EastMall 801 (available in the U.S. from Vapor Junction for $35, in red or marble), which also has a moderately low (unspecified) resistance atomizer.
Next page: A More Thorough Approach