WWV Part IV (page 6)
3. The Cartomizers
If you want the simplest, most convenient e-cig (which is the same size as a Mini), consider the cartomizers: the two-part e-cig using an integrated cartridge and atomizer. You just screw on a pre-filled cartomizer and vape. No juice dripping or cart filling required (although you may want to do so to save money – those cartomizers can get expensive).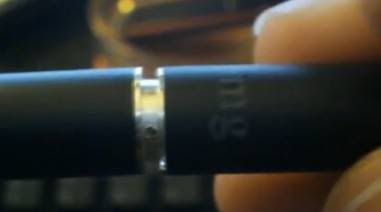 Because of their advantages, during 2010, cartomizers also have become available for e-cigs with 510 or RN4081 fittings (discussed further below). There are three different cartomizer-dedicated models:
The KR808D-1 (abbreviated by some of us as Kr8, pronounced: Kreight!) is the most common … and, in 2009, grew dramatically in popularity and a great number of flavor choices and nicotine levels became available. Its 280 mAh standard battery delivers more puffs per battery charge than any e-cig its size (tie with the much longer Penstyle, but short of a Fat Batt or Mod) … and it is the only true 3.7V non-mod PV. Kr8 cartomizers deliver strong flavor and throat hit and adequate vapor. [NOTE: My personal experience is different from most; I find that the flavor has an unpleasant undertaste and the cartomizer can get hot. I love that Kr8 battery, however.]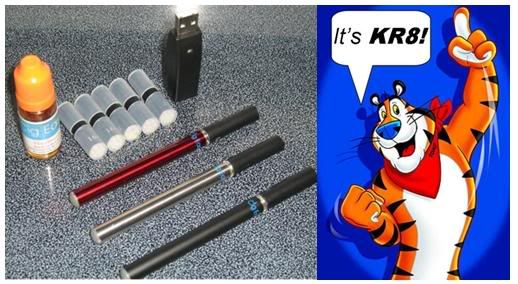 The new advanced cartomizers – Vapor4Life's Premium and WOW Vapor (i.e., Premium cartos filled with better-tasting e-liquid), VaporNine's Turbo, CigEasy's Gold Label Deluxe, and especially BloogPlanet's MaxX Fusion – are far superior in flavor and, especially, vapor … and IMO are definitely worth the slightly higher cost.
Some Kr8 batteries have 5 second cutoffs, others 10-second. They are available as automatic or manual switch (I prefer the auto), in three sizes: shorty (180 mAh, only stocked by Vapor4Life and BloogPlanet), regular (280 mAh), and XL (380mAh). [MaxX Fusion's regular size batteries are 320 mAh.]
[photo illustration courtesy of ECF member Birdy]
And there is now a fat batt for the Kr8 (and 901), the Elegant Easy from CigEasy, discussed in Part V and described in-depth in my review.

BTW, 901 atomizers and adapters fit Kr8 batteries (but Kr8 cartomizers fit only some 901 adapters and mod fittings). As we saw in Part 2, myriad color choices are available for the KR808D-1. [Uh oh! You know what happened the last time I talked about these colors! 😮 Don't worry; limit of one song per installment. (There should be an emoticon for "Whew!")]
Because of the greater length of the standard Kr8 battery, its PCC, shown below, is of a different design than most others. It charges one battery and holds two cartomizers.
The new, more expensive MaxxFusion Mini PCC (for use with the shorter 65mm batteries) is an advanced, slide-opening design. It charges one battery while also holding a complete assembled e-cig.
Kr8s are sold by myriad suppliers and under several brand names, enumerated in the "Quick and Dirty" section of page 2, including VaporKings (not to be confused with the Vapor King brand from Vapor4Life). [That's the expression: "not to be confused with," but it is confusing! And to make matters worse, Kanger also manufactures a half-dozen other models with "KR808" in the designation … and ElectronicCigarettesInc sells a 510 that it calls "Vapor King."
]
iStormUK shares his impressions of the Kr8:
For more information about the Kr8, read Birdy's outstanding ECF A VaporKing User Guide and my comparative review, and explore ECF's KR808D-1 Model Specific Discussion forum.
Kr8 suppliers, NHaler and LeCig, also carry the somewhat similar GreenCig, the G220 starter kit for which is $75. The GreenCig cartomizer is longer than the Kr8's, but the battery is shorter. Total size: slightly shorter.
You might want to consider ordering some of the GreenCig cartomizers (which also work well the Kr8 automatic battery, but require an adapter for Kr8 manual batteries) to check it out. Those cartomizers cost about 50% more than Kr8 cartos, but they they hold more e-liquid. They have a tighter draw and very little throat hit, but more vapor and, to me, they have a smoother, more pleasant taste. [The vapor and taste comments are relative to the standard Kr8 cartos, not the advanced ones.] Unlike their country cousins, color choices are limited to black or white … or black and white.
Here is igetcha69's review of the GreenCig G220 kit:
Shown below is the $119 deluxe kit, which includes an elegant looking PCC.
The cartomizer model most frequently mass marketed on the Internet and sold in malls is the E9, under such brand names as Green Smoke (not to be confused† with GreenCig), Smoke51 DUO, Vapure, KR808D-2, Red Dragon, Loong Totem, Bloog, and ePuffer. The E9 cartomizer is the same size as the Kr8; it normally is sold with a shorter battery. In 2009, Leaford ranked this device #1, because of its unparalleled vapor production, while acknowledging its diminished flavor and throat hit. [Since then, he has injected its positive attributes into Vapor4Life's advanced cartos.]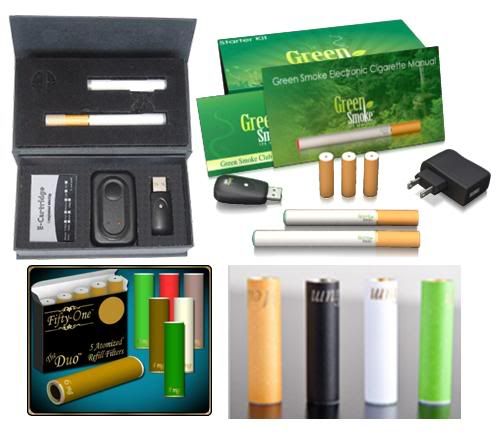 E9 batteries and cartomizers are not compatible with Kr8 parts, although I understand that some of those brands have switched over. It's confusing.† LeCig carries both the Kr8 (their D1) and the E9 (their D2: cartomizers and batteries). LeCig is the only moderately-priced supplier I know of (NHaler no longer carries the E9), although other companies' cartomizers are priced competitively with GreenCig carts (and I've read good things about Vapure's).
† Lots of confusion with these cartomizer thingies.
It's ironic, because the devices themselves are so simple to use.
Here is FieldOfVapor's not very positive review of the E9 from Green Smoke:
The Other Cartomizers
During 2010, cartomizers have become available for the 510 (both 510 batteries and mod and fat batt fittings for 510 attys)…
…and for the RN4081/DSE103.
These days, most 510 suppliers carry 510 cartomizers. Suppliers of RN4081/DSE103 cartos include Good Prophets, AquaVapor, and AZ Smoke Free. Reviews have generally been positive and they are becoming quite popular. Here is GrimmGreen's take on the 510 cartomizers:
Most recently 2-ml capacity Mega cartomizers have been introduced for the eGO/Tornado (which also will work on the Riva) and are being carried by many suppliers of those models.
Here's what smokie ("step07726") has to say about them:
At this point, you may have become excited about one or more models and are chafing at the bit to place an order. But wait! The "best" e-cigs (that is, my three favorites ;)) – as well as many other really good models – are yet to come!
Specific recommendations – with the same fact-filled style [But maybe, just maybe, I'll sing again…
] … and useful, but humorless photos – to be continued in…
Part V – Purchasing Your First E-cig – Big Guys and Juice
A. Specific Recommendations and Supplier Links continued
4. Penstyles
6. Fat Batts
7. Mods
B. The Juice
● How to Decide – China vs. US/UK juice / Nicotine Level / Flavors
● Samplers: Where to get them / 10 ml Bottles
Same bat-time, same bat-channel!*
* No more hand-holding of young whippersnappers – look this one up for yourself. [I will give you a link to my intended common-usage meaning of 'whippersnapper'; the official dictionary definition is derogatory and not intended.]