The Elite 808 from CigEasy:
A GREAT cigarillo-like PV!
♫ I'm as corny as Kansas in August,
Dancing along to a great disco beat.
If you'll excuse an expression I use,
I'm in love with CigEasy's Elite! ♫
Most of my reviews are long-winded and filled with facts. This is not one of them. Not because the subject doesn't deserve an in-depth review. It does! Rather because ECF member, SSV2, has already provided such a review … and because my wife is quite ill and I just don't have the stamina to devote to the task.
What I'm doing here, beyond pointing you to SSV2's review, is providing confirmation – based on my own intensive experience with the Elite – of all that he says in his review. [He is a Supplier Associate after all and you might otherwise take his claims with a grain of salt.] Also I'll add my personal observations and feelings about the Elite electronic cigarette.

Out of the blue, about a week ago, Frank of CigEasy sent me an Elite 808 electronic cigarette… without any obligation to review it. [He did the same several months ago with the Go-Go, which I declined to review. Unlike so many, I didn't enjoy it.] This baby, however, demands a review … and a glowing one.
In summary, the Elite is now my favorite PV! I think its size and shape are neat, but what I love about it are the superlative vapor, strong TH, and wonderful flavor.
I have called the traditional e-cigs (super-mini, mini, and penstyle) "skinny batts" and the eGo-types "fat batts." The Elite is a slender batt. [It reminds me of a cigarillo: not a cigar or a cigarette, but somewhere in between.]
It is a bit wider than the skinnies (such as the Kr8 model shown below), but significantly narrower than the fat batts. Although the battery is somewhat longer than the 650 mAh eGo electronic cigarette, the total length with its cartomizer is about the same as the eGo with an XL cartomizer.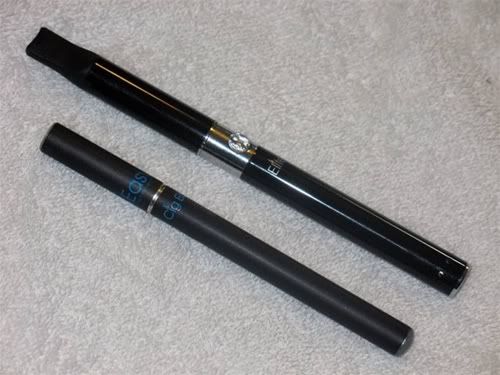 The battery has the latest state-of-the art convenience features: 3-button-press shutoff and a ring of lights at the bottom to indicate remaining charge … as well as JSB's trademark bling: a "simulated diamond" switch button, which lights an attractive blue when pressed. It is comfortable to press and engages easily and reliably; I've never had a misfire.
The battery's 380 mAh may not impress you, but comparing it to the 650+ fat batts is unfair. Because of its slenderness, a more appropriate comparison is to the standard size 116mm Kr8 electronic cigarette, the highest mAh for which is 320 mAh. And its voltage (which SSV2 measured as 4.24V fully charged, not under load) is perfectly matched with the Elite cartomizer's resistance (a trade secret).
I've confirmed that the Elite battery can effectively be used with Kr8 electronic cigarette cartomizers.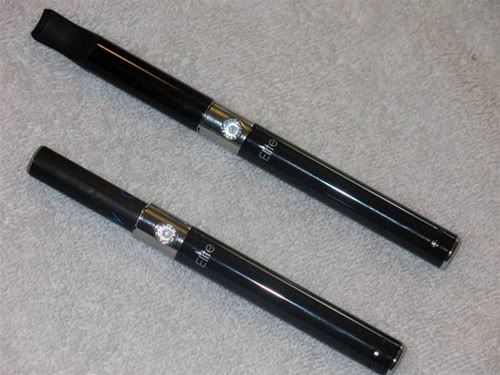 I doubt I ever will hereafter, however, as I am so pleased with the Elite 2ml-capacity, whistle-tipped cartomizer's performance (and with its aesthetic matching with the battery). [I'll save my VOLT cartos for use on my 65mm VOLT batts to use when I want a super-mini experience.]
And, because of that perfect matching, to me it is irrelevant that the Elite is not 510-compatible. Get a $30 Riva for your Smok Tech 1.7 ohm Single Coils and Smok Tech Dual Coils (my second and third favorites, respectively).
The $50 kit includes two manual batteries, five cartomizers (blank), charger, and instruction manual (written in English by Frank).
Additional five-packs of cartos can be purchased for $15. Spare batteries are not currently offered.
So…

If you want very high mAh electronic cigarette, get a big battery mod or one of those 1100-1300 mAh fat batts.
If you want a super-mini electronic cigarette, get the VOLT with 65mm batteries.
If you want 510 compatibility, get a Riva or eGo.
But if you want a truly wonderful vaping experience in a slender package – that will last you for several hours between charges and juice fillings – get the Elite 808 electronic cigarette from CigEasy!