The Lea from Evcigarettes:
The little tank that could

A couple weeks ago, Celestino at Evcigarettes (one of Vaping Guides' newest advertisers) asked CyberWolf and me to review two of the models he carries. I was assigned the Lea from Innokin (distributed by Boge) and I approached the assignment with some trepidation, being underwhelmed by a video review I had seen of it. I shared my concerns with Celestino and he told me to go for it, come hell or high water.
After about an hour's use (which I'll tell you about), I let out a big sigh of relief: This thing is pretty good; in fact it may be ideal for many vapers!
[NOTE: There are many great photos of the Lea on the Evcigarettes and Innokin websites, but I'm greedy. I've ripped from other sources also, acknowledging as I use them. I am especially indebted to Jackal3 of White Stag Vapor, who has posted some wonderful ones here on ECF.]
What Is It?
The Lea is, in effect, a longer, more slender eGo-T with a smaller tank and some neat additional features.
In this short video review, Jen (mergryphon on ECF, GeekGirlVaper on YouTube) provides an effective introduction to this PV (which she received from White Stag Vapor):
Highlights
Like the eGo-T, the Lea has a 650 mAh, passthrough-capable battery, with an ON/OFF setting built into switch button (press three times).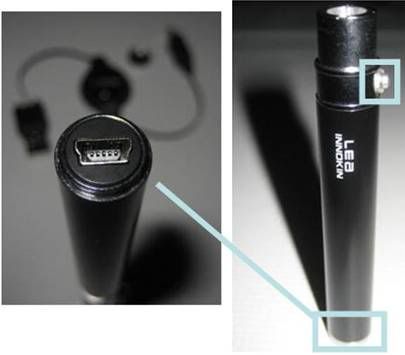 It also has a clear, non-leaking, easy-to-fill tank (but with a soft cap, which I'll talk about later). The Lea tank is smaller than the eGo-T's type A tank (and therefore also type B), holding 15 drops of juice.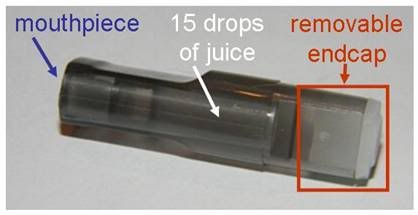 The Lea is 510-compatible, but not eGo-compatible, i.e., all 510 atomizers and cartomizers fit and work just fine on the battery, but there is no cone threading for eGo-specific atomizers/cartomizers. The Lea atomizer's battery connection doesn't extend far enough to make contact with eGo-type batteries.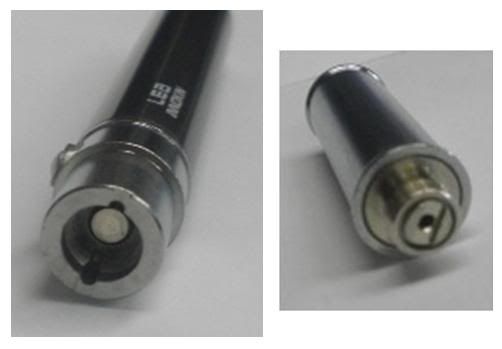 [photos courtesy of VapeLite]
Unique additional features include an LED surrounding the switch button displaying four possible colors (green, yellow, orange, red), which indicate charge remaining…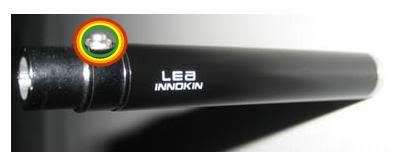 …and a pen-clip cover. With that cover on, the Lea looks like a handsome fountain pen.
Specs:
Total length (i.e., when clipped to your pocket or purse): 150mm – same as the Leo and appreciably longer than the eGo-T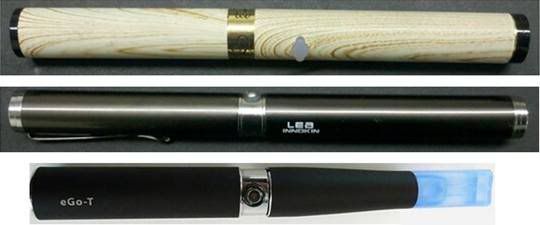 [top two photos courtesy of Jackal3 of White Stag Vapor]
Length without cap (i.e., while vaping): 140mm – a bit shorter than the Leo without cap
Diameter: 13.5mm – more slender than the eGo (on left of photo) and much more slender than the Leo (on right)

Tank capacity: 15 drops – less than other tanks
[photo courtesy of Jackal3 of White Stag Vapor]
Battery is a regulated 3.5V and atomizer is 2.7Ω, yielding a continuing 4.5-watt vaping experience and a low, be-kind-to-atty 1.3 amps of current.
For (less than)* $50, EVcigarettes will send you all of the items shown above, i.e., an attractive box containing:
1x Innokin Lea 650 mAh 3.5V Manual Battery – Glossy Black
1x Innokin Lea Atomizer (2.7 ohm) – Stainless Steel
1x Innokin Lea Pen-Style Cover – Glossy Black
6x Innokin Lea Tank Cartridges (one of which is pre-inserted in the atty)
1x Retractable USB Cord
1x USB A/C Power Charger Adaptor
1x Instructions Manual (in authentic Chinesed English)
PLUS (not shown in photo) two 10-ml bottles of e-liquid (in your choices of flavor and nicotine strength)
Additional/Replacement Parts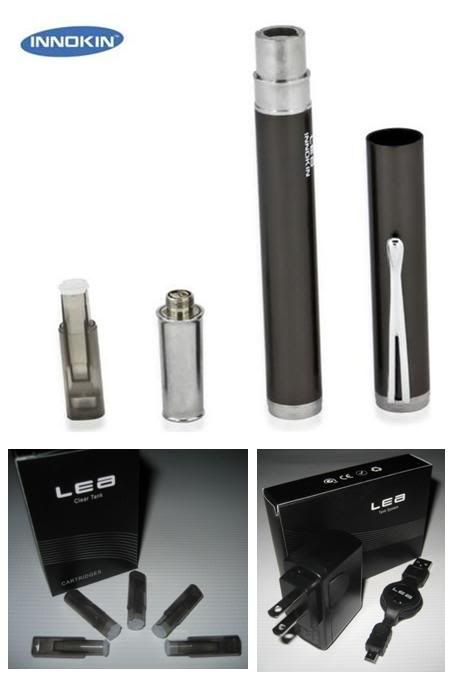 You may want to supplement the starter kit with an extra battery and atomizer and/or other items, available from EVcigarettes as follows:
* Use Coupon Code ECF15% for 15% off!

My Experience
The first hour was rough. As pbusardo reported in his review, that atomizer takes awhile to break in … and I had problems with the pre-inserted tank.
Unlike the eGo-T tanks, the cap (easily removable for filling) is soft and rubbery and too easily removable … and therein lies the rub: that cap can get stuck on the atomizer spike. And I had a devil of a time prying it out. [A pair of tweezers would have helped
, which I have since purchased.]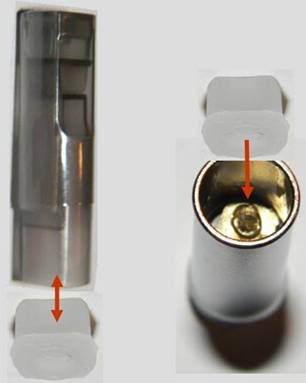 [photos (prior to manipulation) courtesy of Jackal3 of White Stag Vapor]
This happened more than once and, in general, that pre-inserted tank just didn't seem to be very effective. I gave up on it and tried another, which performed much better (although it did get stuck once).
The Lea generates a large amount of vapor.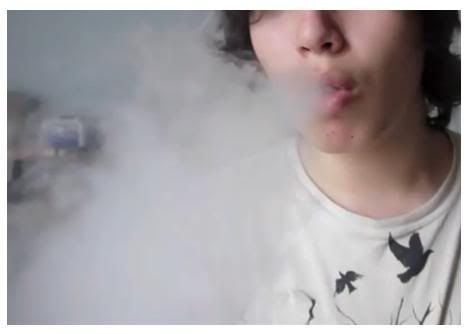 [image ripped from blogunguy's video review]
The flavor and TH are pleasing but somewhat muted. All in all, a very similar vaping experience to the eGo-T.
The switch button is metal rather than plastic and a bit smaller than the eGo's, extending further out. It is wobbly, but engages easily and reliably with an audible click. I thought it would be uncomfortable to press, but it is not.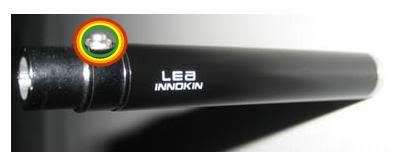 I really like that LED charge indicator. Since I also use other PVs, I can lose track of how much time I've been vaping any one of them. It's nice to know when it is approaching time to recharge … rather than being caught by surprise with a pooped out battery.
Because I am pretty much a stay-at-home guy, I've not made much use of the pen clip cover, but I can see how it would be very useful to most vapers, e.g., as demonstrated by mergryphon in her review.

Although some vapers might prefer a larger capacity tank, I like it. I don't have any one juice that I love enough to vape through 2-4 ml worth without switching off.
Since TH is especially important to me, I'm using the neat Lea battery primarily with LR cartomizers … and I'm loving it! For example, with a Smok Tech Dual Coil, it is a wonderful vaping experience … and that long slender black PV (batt, carto, and drip tip) with stainless steel trim looks great too. Shown below is the Lea battery with the smaller Boge carto and without drip tip.
[photo courtesy of Jackal3 of White Stag Vapor]
Recommendations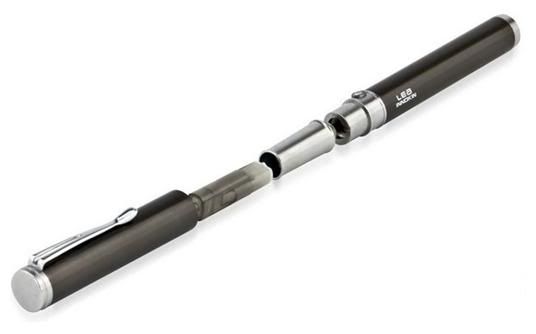 I think the Lea would be a wonderful PV for anyone who likes its looks (as I do) and/or unique features (e.g., that pen-clip, ON/OFF setting, and battery charge LED indicator) … especially if you are:
A new vaper who was not a heavy smoker (and therefore you don't necessarily want intense throat hit).
An experienced vaper whose priorities are vapor production, convenience, and appearance.
In addition, anyone will appreciate that neat battery, which works so well with 510 cartomizers and atomizers … and with other cartos and attys using an adapter. [For example, my black EastMall 801 atomizer on my Lea battery is my new penstyle!] Seasoned vapers don't even have to get the charger; the Lea batt will work with any standard USB cable.
And I see no point in buying a standard 510 passthrough (other than those special 5V ones). What a great 510 PT this is!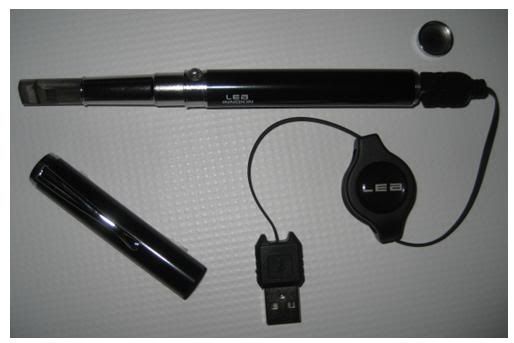 And that's the truth!