Short answers to some other frequently asked questions:
You don't need anything additional to drip. You can drip with any atomizer (not with cartomizers, however) just by removing the cartridge or cartridge filling from the mouthpiece. What makes dripping easier is the drip tip (replacing the cartridge) that goes on the atty.
These days, most suppliers sell drip tips. There are all types: steel, aluminum, delrin, long, short, black, clear, colors, etc. Here are just three examples from outside the middle of the pack:
NHaler probably has the largest selection … with the possible exception of SuperTManufacturing (which created the first drip tip, is most expensive*, and, perhaps, highest quality). Good Prophets has the lowest price.
* SuperT also carries an inexpensive imported line of colored anodized aluminum tips, not of its design.
If you want a 5V passthrough, look at the ones from MadVapes ($17) and ElectronicStix ($13). And, indeed, you should use a 2 amp AC to USB adapter for those, such as that $9 one from MadVapes.
[For a high-end passthrough, check out VaprLife's $60 VP-PT.]
As you may know, such 5V PTs will deliver a more intense vape … and should not be used with LR atomizers (which also deliver an intense vape).
The shortest 18650-based mod is the $159 Precious-L (shown on the upper left) and the most slender is the $160 Precise 18650 (on the lower right). Photos are approximately to scale. [BTW, the same statements about shortest and most slender apply to the 14500 and 10440 versions of those two models.]
The Precious has a "touch sensor, senses your fingerprint not the push! (pocket safe)." The Precise has a "semi-recessed and shielded button to help prevent mis-fires." [NOTE: The Precious-L is no longer being sold. It will be replaced by the Precious-L v2 with more features, available for preorder, but price not yet determined.]
Other 18650-based mods are shown on ViZi's list, including less expensive 18650 mods, e.g., the $100 Omega and $109 Saber Touch. They may not be quite as small, but also are good choices. And there are larger size classics like the $80 Chuck and $85 Silver Bullet.
The favorite menthol of other vapers (including Eric or Don) may very well not be right for you.
Virtually all vaping suppliers offer at least one menthol-flavored e-liquid. You may want to start by consulting e-Liquid-Database – ViZi's outstanding compendium of juice (by continent of the creator). In each case, he provides basic facts about the offerings, e.g., bottle sizes, nicotine strengths offered, number of flavors (tobacco and other), PG and/or VG, cost per ml, and supplier links. Although some brewers are missing, this is the most comprehensive listing I know of.
You can read and view reviews* to narrow the field and buy small bottles from various suppliers – including different menthols from the same supplier, e.g., Vapor4Life has almost a dozen menthol flavors (none of which I have tried, so no thumbs up or down from me on those).
* AllAboutTheVapor, Basilray, GrimmGreen, and smokie are among the most prolific video reviewers of e-liquid. [NOTE: Many other great video reviewers concentrate primarily on hardware.]
BTW, even reviews of non-menthol flavors might have some relevance for you. If a reviewer raves about several flavors from a supplier, praising the overall quality of their juice, it might be worth giving their menthol a try. For example (and it is only an example), I happen to enjoy Backwoods Brew juices (doesn't mean you would), but I'm not a menthol man, so I've never tried his Menthol Tobacco. Pretending, for the moment, that I am a reviewer you like and trust, you could use my comment as incentive to track down more specific comments about his menthol flavor (there happen to be two on his website plus ENIPuff's on ECF).
Another approach is to use candre23's "E-Liquid Cost-per-ml" list of e-liquid suppliers (with links to their sites), sortable by large-bottle cost, sample-bottle cost, or shipping cost. An invaluable tool for the thrifty juice shopper.
The DSE103 atomizer (discussed here) is fully compatible with the RN4081 … and there are now 4081 cartomizers.
I wish I could suggest a 4081 battery to 510 atomizer adapter, but I don't know of any. The only 4081-related adapters I know of go the other way around (i.e., for using a 510 or 901 battery with the 4081 atty).
And then there is the Alexandrian Solution to that Gordian Knot: Forget the couple RN4081 batteries that came with your kit … and buy an inexpensive 510 kit to try out. [This page of the WWV lists some inexpensive sources. Or, for only $10, try the Q-cig 510 clone.] If you like the 510 atty, you can always upgrade to eGO batts later on.
You've lost that throat hit feeling,
Whoa, that throat hit feeling,
You've lost that throat hit feeling,
Now it's gone…gone…gone…wooooooh.
[Sorry about that. I just re-watched Top Gun on cable.]
TH is impacted by nicotine level and other aspects of the e-liquid, by the model and resistance of the atomizer, by the battery voltage, and by personal idiosyncrasies.
Starting with the last factor and using myself as an example: As the day goes on (especially if I've been vaping a lot), I get less and less TH. To a great extent, I think TH stems from the satisfying of nicotine deprivation. If my body is nicotine-satiated, there is little hit to experience.
As for the e-liquid, you may want to try a higher nicotine level and/or different flavors (e.g., Menthol or Atomic Cinnacide hits harder than many others) and/or other brewers.
Battery voltage and atomizer resistance go hand in hand to produce watts. "Watt's that?" you ask. It's the power or intensity of the vape. [I have attempted to simply and briefly explain this volts/ohms/watts stuff here (bottom half of page).] You may want to consider upgrading to a "Fat Batt" (e.g., eGO, Riva, Hello 016) in order to: get many more puff per battery charge and be able to use LR atomizers. Lower resistance (e.g., 1.5 or 2.0 ohms, instead of the standard 510 atty's 2.3 ohms) will increase the intensity of the vape … as will a higher voltage battery, e.g., a 3.7V mod (instead of the 510 battery's 3.2V). But don't do both.
The 510 atomizer is the most popular … but it is not the only atty out there or necessarily the best for TH (at least for everyone). From what I've read, the compatible 306 (especially Cisco's LR 306) hits harder. Personally, I get no TH from the 510. The 801 is the one for me.
We don't recommend cleaning atomizers (e.g., washing or dry burn). It doesn't do much to lengthen their lifespan … and can ruin them. [And LR attys or regular ones used at 5 volts normally don't need cleaning, because they burn off residues more efficiently than stock attys @ 3.7 volts.]
We do think blowing out atomizers regularly (e.g., every other day) is helpful. [NOTE: Immediately afterward, drip two to four drops of your favorite e-liquid directly on the atomizer coil.]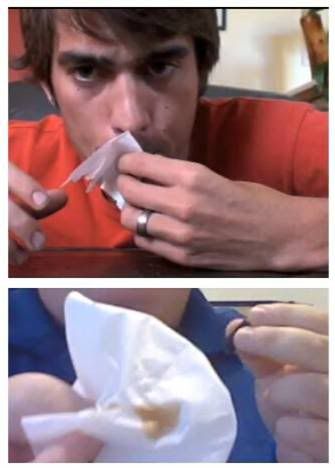 On ECF, keyzygirl suggested: "I soak mine in a bowl of boiling water for a bit to loosen things up. Then I hold them under running water to flush them out, blow them out and repeat. Blow them out really good to dry them and let them sit to air dry for a while. I don't like to boil them in a pot; it seems to kill too many."
My own answer is: Cartomizers are disposable. They are designed to be refilled a few times and then thrown away when they stop tasting good. Anything beyond that (gained by cleaning) is a bonus not to be expected.
Maintain a supply that could hold out for at least a week, i.e., the length of time it would take to receive replacement parts and e-liquid.
I wouldn't invest any further in 510 batteries. Unless you are in love with the small form factor of the basic 510 (and are willing to pay the frequent recharge price for it), you should give serious consideration to the "Fat Batts" (as I call them), e.g., eGO/Tornado, Riva, Hello 016. Otherwise, get a PCC for those 510 batts.
And, over time, check out other atomizer models. The 510 atty is the most popular, but it is not the only one and not everyone's favorite. For example, there is increasing buzz about the Joye 306 atomizer and it is compatible with your current batteries (and those fat batts).
As for e-liquid, I recommend sampling many different ones in small bottles, sources for which are covered in the answer to this FAQ.
For me, stocking up on vaping supplies is like building a bomb shelter in the 50's and 60's: the worst may happen, but I have neither the temperament nor the financial resources to prepare for every worst-case scenario. [But then, my wife says that I go through life with rose-colored glasses.]
Also, I do not yet have the ultimate mod, atomizer, and e-liquid: I'm still exploring … and, of course, new ones are coming out almost every day.
Disclaimer: If vaping supplies are banned in your state/county/city, please don't chastise me for giving you bad advice.
Change the e-liquid you are using. If a supplier's website doesn't say anything about their liquid being US (or UK)-made, I assume that it is China-made and all PG: not known for generating lots of vapor. VG tends to produce more vapor than PG. Many of us prefer a mixture of the two (although some people need pure VG because of allergy to PG).
Some of the very good US-made e-liquid suppliers are Alien Visions, Backwoods Brew, Cignot's BASIC line, FreedomSmokeUSA [10% discount code: VGFSU10], Gourmet Vapor, Halo, NHaler, Tasty Vapor, Vapor Bomb, VapeRite, Vapor Station, and Viking Vapor. Two of the best UK-made e-liquids are ECOpure and Decadent Vapours. [See this page for links to each supplier/juice mentioned.]
Like any e-cig, the "510" is both an atomizer and a battery. The 510 atomizer is unquestionably the most popular of all attys. The 180 mAh 510 battery seems to be following "the 901 going the way of the dodo," as one ECF member put it.
I do not recommend the 510 battery. Rather check out the 650 mAh eGO/Tornado or other 510-based "Fat Batts": 750 mAh Riva, 900 mAh Mega eGO battery, 1000 mAh Mega Tornado battery, 1300 mAh Hello 016. These are all described (with supplier links) on this page of the WWV and on this page of ViZi's master database of mods. [That having been said, I do still enjoy taking a break from my mod to puff on my basic 510 (atty & batt). Since I only use it occasionally, its low mAh doesn't get in my way.]
The term "Mega" (or "XL") also is used as a label for the longer 280 mAh 510 batteries, larger 510 attys & carts, and for the new large capacity atomizers/cartridges and cartomizers available for the eGO/Tornado and Riva. Personally, I think the Mega eGO atomizer or Mega eGO cartomizer on the Mega eGO battery (shown in photo at top and center, respectively) are pretty neat-looking devices. [The standard eGO with 510 atty and eGO cone is at the bottom of the photo.]
attys cartos" src="http://www.jantyworld.com/images/clip_image013.jpg" alt="" width="450″ height="247″ />
These are the new e-cigars (my designation, not official).
Begin by reading Eric's "DIY E-liquid – value and choice" Vapor Trails article. The most convenient way to proceed from there is with a DIY kit, e.g.,
DIY Flavor Shack's Silver, Gold, Platinum, Ultimate, or Premium DIY Kits ($30 – $56 plus $8 shipping). What varies is the quantity and nicotine strength of the e-liquid included. All kits include the two-level Snap Close Tool Chest shown here, a guide to mixing, some base liquid, four flavorings, and myriad supplies – virtually all you would need to get started … and to continue, adding just some more bottles and additional base liquids and flavorings as you need them.
One Stop DIY Shop's DIY Flavor Artisan Apprentice and Masters Kits ($30 and $44 plus $6 shipping), containing many of the same supplies but no case. Shown below are the contents of the $30 Apprentice kit. NOTE: Although their kits may not be quite as complete as the previous, this shop has a pretty good price on base PG or VG – $4.50 for a 4-oz. (i.e., 120-ml) mini-jug (also included in the kits).
Compare those kits in the context of your needs and decide. Sources for high-test unflavored nicotine juice include:
MyFreedomSmokes: various strengths (up to 100mg), quantities (up to 500 ml), and PG/VG proportions, e.g., 60 ml bottle of 100mg – $34.
Most of those sources also carry base PG and VG and/or flavorings.
Never. But lack of regret is too faint for the praise I give to vaping. It is the second greatest physical pleasure of my life.
I didn't turn to e-cigs to quit smoking or reduce nicotine. I was/am just fascinated by it. And I still am "addicted" to that hand-to-mouth, inhale-exhale experience (and to nicotine). I just don't have any desire to give it up.
Atomizers are so delicate and vary so much from unit to unit that is difficult to determine the precise cause of diminished performance. And eventually (anywhere from a few days to a few months), all attys die or peter out.
To keep any atomizer going for as long as possible:
Always keep them moist. Most cartridges don't do this very well; frequent dripping (directly on the

atty

coil) does. I do three drops at a time.
Regularly (perhaps daily) blow them out … after which drip four drops.
Avoid very thick e-liquid (except with LR atomizers), whether the thickness is due to VG or the type of flavoring used.
Love and pamper the good

attys

: the ones that are exceptionally effective from the get-go. They are fewer and further between than many of us would like. I'm still using and treasuring a 510

atty

I purchased several months ago, whereas one a got much more recently has been disappointing from the start (and sits unused).