The Echo from Cool Vapes:
a beautiful, automatic MEGA fat batt

[photo courtesy of www.elcigg.se]
Last week, JohnnyBass of Cool Vapes (a brand new supplier and one of the handful that carries this model), sent me a chrome 1300 mAh Kr8/901-compatible Echo (plus an eGo-compatible Echo-e cartomizer) to review. Although I will mention the other sizes and versions, this is a review of that 1300 mAh "Echo."
I did not pay for it, but probably would have purchased one anyway, because I've been intrigued by all that I've read about it, e.g., in txtumbleweed's The New Echo review thread.
For the past several days, I've been putting the Echo through its paces and I am very impressed. It may not be everything I want in a PV, but it is a lot of things … including some that are not to be found in any other e-cig.
So what is it?
In broad strokes, the Echo (1300 mAh size) is kinda like an iGo with an automatic battery, i.e., it is a long Kr8/901-compatible fat batt with high mAh and 3+ ml capacity cartomizer. [Unfortunately (for the sake of this review), I've not used the iGo, so I can make no comparative comments on their respective performance.] In addition to the automatic battery, another obvious difference is a large red LED at the end of the Echo batt: Beep beep, comin' through!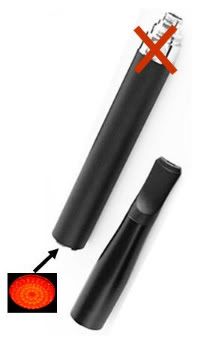 [iGo photo (prior to my markup) courtesy of NHaler.]
It's manufactured by Hangsen, located – in of all places – China. 😉 Not as big a name as say, Joye or Sailebao, but then who had heard of Smok Tech until recently.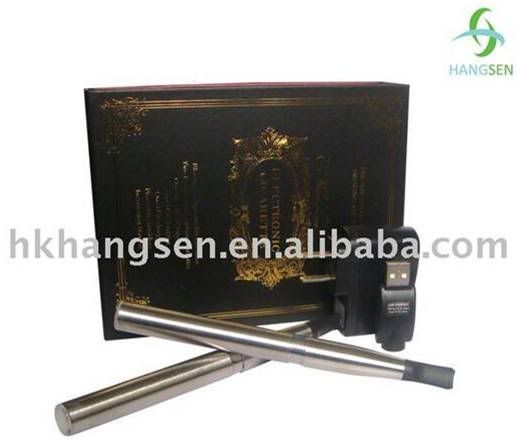 The cartomizer is one of the new generation of mega capacity ones like the Leo, Go-Go, iGo, and Get-Up-and-Go (I made up the last one). According to Hangsen, the Echo carto utilizes a "new technical breakthrough – Cup shaped matrix to get rid of the burnt smell of atomizer/cartomizer following e-liquid depletion."
Here is Hangsen's video demonstration of that "Cup shaped matrix" … along with other features of the Echo. [FYI: Listening to the computer synthesized speech alone is worth the investment of two minutes of your your time.
]
Hangsen further states that it is "refillable with e-liquid for over hundred times." I've not had mine long enough to confirm, but my first carto still tastes good and performs well after several refills and top offs.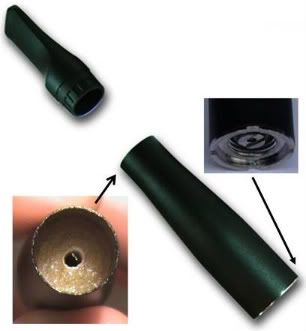 Notice the non-recessed battery connection.
Although the Echo carto has a Kr8/901 battery connection, it takes an 801 mouthpiece. It is 2.8Ω (+/-.1) resistance and holds 3 ml of e-liquid, however users have said that – unlike most capacity claims – 3 ml is conservative. [But see my comment about flavor and topping off under "Cons."]
The batteries are regulated 3.7V (i.e., ~3.7V, not 4.2V, hot off the charger) and are available in 650 mAh, 1100 mAh, or 1300 mAh.

[composite photo courtesy of Northwest Vapors]
That 2.8Ω and 3.7V generates ~5 watts of power (i.e., intensity of the vape): about a half watt more than a standard resistance 2.3Ω 510 atty on a 3.2V eGo. So: decent, but not overwhelming. The amps current generated is much less than an LR atty or carto on the eGo. [FYI: High current is what fries atomizers and mosfets. For more information about volts/ohms/watts/amps, see this article.]
The 1300 mAh battery yields an assembled unit the same 14mm diameter as an eGo and about a quarter inch longer than my 155mm DSE801 penstyle, so say about 165mm. I use this approximation, since I don't own a metric ruler and since the information on the Hangsen site – 137mm – obviously is way off. [I've seen this kind of thing before on manufacturers' websites. Are metric measurements different in China than elsewhere?]
[The above is stainless steel (available somewhere in the world, I suppose). It is not the chrome Echo that Cool Vapes sells.]
The 112mm shown on their site for the 650 mAh unit may be closer to the truth (but still on the low side). I don't have one, but it's probably slightly longer than the eGo-T.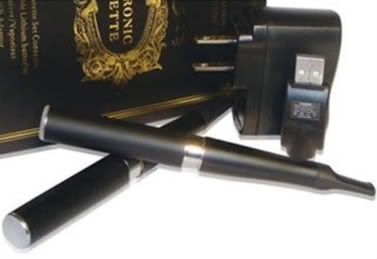 Here is Scott Bonner's review of that 650 mAh size. [NOTE: The cartos in Scott's demo kit from the manufacturer were prefilled. The cartos in kits sold by U.S. suppliers like Cool Vapes are blank.]
"Echo" (shown on the left of the three cartomizers below) is the Kr8/901-compatible version. "Echo-e" (in the center) is the eGo compatible (but also uses an 801-sized mouthpiece). [NOTE: The Echo-e's juice capacity is somewhat less than the Echo's.] Supposedly, there also is a VGO-compatible "Echo-v" (shown on the right) but exactly what that means and who carries it, I don't know.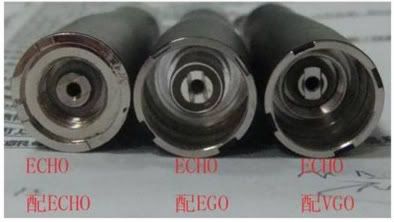 Cool Vapes carries the Echo and Echo-e: in chrome or black … and at 650, 1100 or 1300 mAh. [NOTE: As I write this, his current stock is more limited, but the complete lineup will be in shortly.] Each kit includes two batteries, two cartomizers, USB charger, AC adapter, and requisite mini instruction manual. Johnny supplements that manual with some relevant additional information and tips … including recommended suppliers of e-liquid, which he does not sell. The 650 mAh kits are $50; 1100 mAh are $55; 1300 mAh for $60. [I regard the price for the 650 mAh kit as quite reasonable; $60 for the 1300 mAh kit is a steal!]
Cartomizers sell for $5; somewhat less when purchasing five or more. Certainly more than most cartomizers, but – considering their capacity (and potential for a great many refills) – not bad. Spare batteries are not yet available.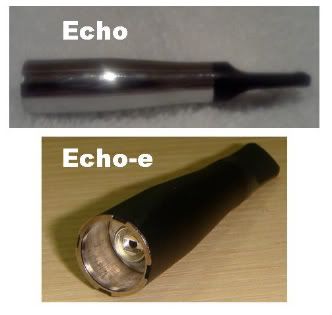 Pros and Cons
No PV is perfect (at least in my experience) or certainly for every vaper. Here is what I think are the strengths and weaknesses of this one.
Pros:
Outstanding vapor – rivaling LR atomizers and cartomizers.
[image ripped from Scott Bonner's review video]
A smooth vape with an easy draw. And, unlike some cartomizers (and tanks), the taste is pleasing, not bitter.
The TH is solid and strong enough for most of my vaping and, probably, for most vapers. [See my additional comments under "Cons."]
An all-day vape: The 1300 mAh battery combined with 3-ml capacity cartomizer enables vaping throughout the day and evening, uninterrupted by battery charging or carto refilling. [Depending on how heavily you vape, you might need to top off occasionally or swap in another cartomizer.]
Effortless vaping: As Scott observed, the automatic battery functions perfectly – no primer puff necessary and no accidental engagements. And it is addictive. I often forget to press the button on my other PVs now and am aware of the extra effort when I do.
A beautiful sleek PV: It is a relatively slender, long-legged honey – handsome in black and pretty in chrome. In contrast, to me, the similar-capacity Go-Go is fat and stumpy.
BTW, for whatever reason, the beautiful chrome model is not a "fingerprint magnet."
The cartomizer (which is very easy to fill and doesn't leak) is fully compatible with Kr8 batteries. [I've tried it with the Elegant and the VOLT. It looks kinda weird on that skinny 65mm VOLT battery 😉 – or on the "Express Batteri" shown here – but it works.]
It also is compatible with 901 fittings on mods … as long as they aren't recessed.
The battery is fully compatible with Kr8 cartomizers and 901 atomizers.
[photo courtesy of dput of Mountain Vapor]
And – with an inexpensive adapter (e.g., $1 from Good Prophets) – these are great batteries for 510 (or 801) atomizers and cartomizers. I don't know of any other 3.7V, 1300 mAh automatic battery. [I used to rave about the standard 3.7V 280 mAh Kr8 auto batt.] These batteries alone (whatever use you put to them) are worth the price of the entire kit.
Cons:
Long charge time (9 hours): Your 1300 mAh battery will fully charge overnight … if you get a good night's sleep. This is made up for by the high mAh, i.e., I don't fully discharge my battery during the day. And remember: the kit includes two batteries; long before one battery has faded, the other is fully charged.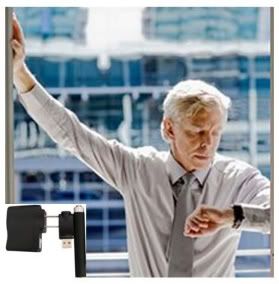 Flavor is subdued (unless I top off frequently): Something about the Echo cartomizer mutes the e-liquid's flavor somewhat. [For whatever reason, I experience that lack less with the Echo-e carto.] And the taste is not as deep and rich as my Leo (on its good days; the Leo is inconsistent) or East Mall 801 atomizer (which requires frequent dripping).
As with most prepackaged PVs (coordinated, proprietary battery and carto/atty) like the Leo – but to a lesser extent than the Leo – I sometimes wish it hit harder, i.e., had more TH. And there are no LR cartos yet available for it.
Not for stealth vaping: That large bright LED commands attention. It is pretty neat though. And you could always cover it with your fist.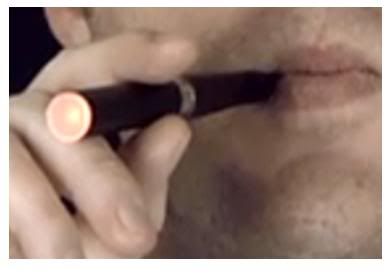 [another image ripped from Scott's video]
Since it is automatic, the battery is (necessarily) unsealed. The cartomizer must be removed from the battery prior to filling or topping off. However (other than an initial drip-through if overfilled), the carto doesn't leak, so the chance of battery damage is minimal.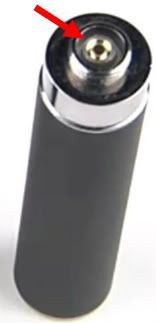 [original image ripped from Scott's video]
This last "con" may be dismissed as my personal idiosyncrasy and applies to all large-capacity cartomizers: I don't have an "all-day vape" e-liquid. I like to switch among a half-dozen different flavors as the mood hits me. That is more easily accomplished with atomizer dripping or even with lesser-capacity cartos like the MaxX Fusion and VOLT.
Conclusion
The Echo is not for everyone (e.g., read about washvaps's disappointment), nor am I yet sure whether it my "desert island vape."* But it is for many vapers … and for me most of the time.
* If I were marooned on a desert island – assuming that I had some way to charge batteries – and could only have one PV, would I choose the Echo? I think I might … especially if I had a couple adapters and other atomizers and cartomizers with me to use on the fantastic Echo batteries. And, of course, on a desert island, I need not be concerned about stealth vaping. 😀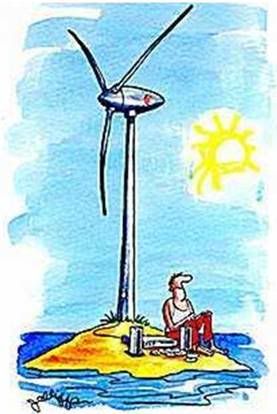 Obviously, if you want an analog cigarette-sized PV, the Echo is not for you. Nor is it for you if you only like high-watts vaping, e.g., high voltage mods or LR attys and cartos. And it is not the PV to turn to for an intense burst of flavor. [Although the Echo batteries might be great for your LR attys/cartos.]
But if you want a long sleek "fat batt" with high mAh and juice capacity, which effortlessly delivers a smooth vape with solid TH and massive vapor – get out your credit card and click on this link!